Lawn Care & Winterizing Tips
If you would like to know more about the safe and efficient use of irrigation water, this section will show you how much water is enough (over-watering is as hard on your lawn as under-watering), how to save water (many small things add up to BIG savings) and how to help ensure the quality of the irrigation water.
Winterization & Maintenance
You may still see water in our canals after the official end date – this is normal and used for baseline testing.
Plan ahead for maintenance work!
Homeowners can prevent the KID valve and riser in their yard from freezing. This keeps maintenance costs down and prevents a leaky or broken valve next spring.
Complete the following steps to winterize your irrigation riser:
Verify that water delivery to your home has ended for the season. *Please do not blow out your sprinklers until the official shut off date. If you do, water will just flow back into your sprinklers which may cause your pipes to freeze and break.

Drain the KID riser and valve. This can be done by disconnecting hoses and/or the irrigation system from the KID riser, and opening the gate valve. If it is not possible to disconnect the irrigation system from the riser, you will need to open all sprinkler valves and let gravity empty the system. Drain times will vary, so please be patient and wait for the water to stop flowing out of the riser.

Once the water flow has stopped, winterize your irrigation system. Consult with a professional to determine the proper winterization procedure for your irrigation system.
Warning: Personal injury and/or property loss can and will occur if winterization is done improperly or incompletely.
Close the KID gate valve and leave it closed. 3-way valves need to be opened to the vent side (pictured below). If the irrigation system was disconnected from the riser, do not reconnect it until spring startup.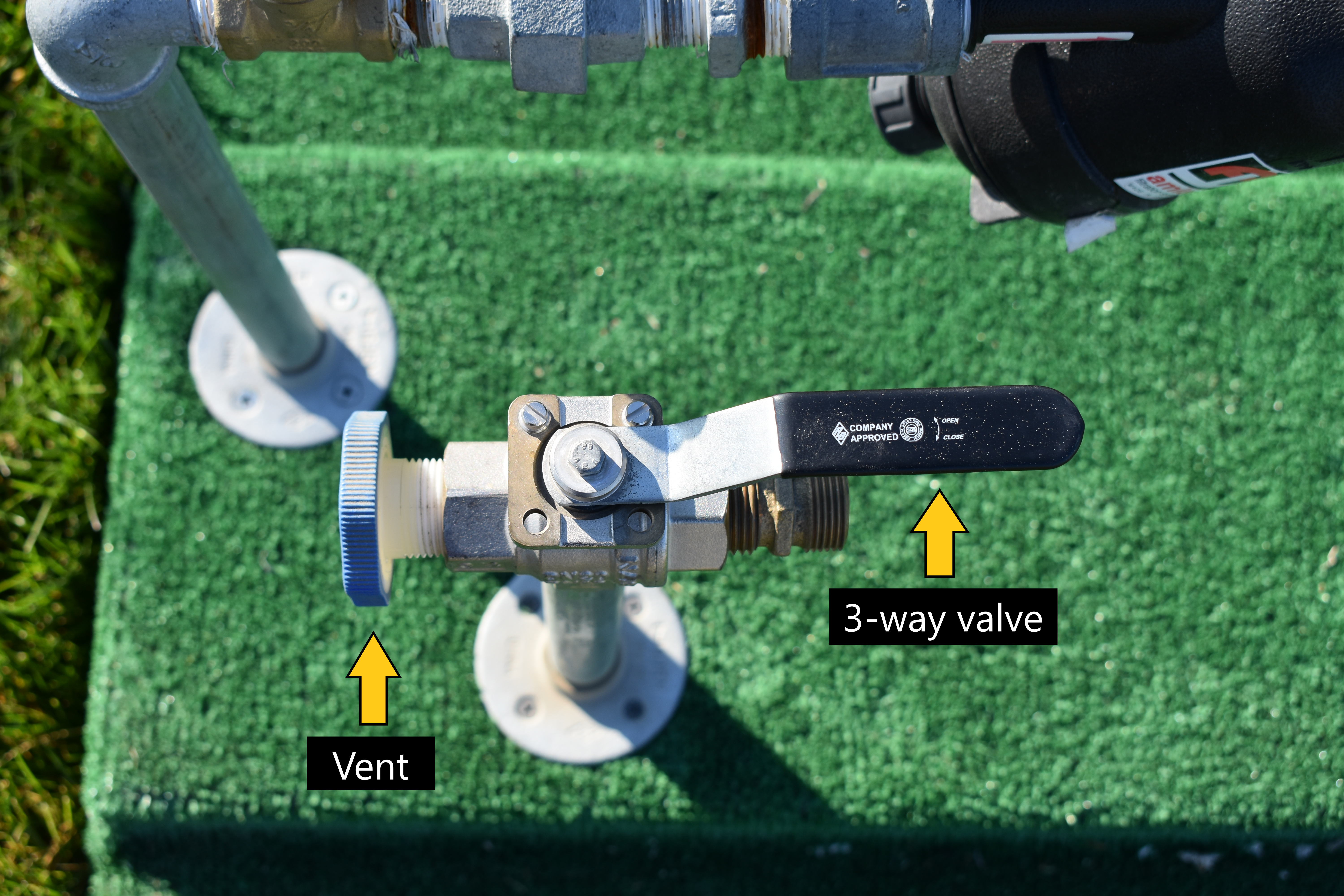 Before the water is turned on (mid-March), make sure the gate valve on your irrigation riser is OFF.
Once the water is turned on, check the irrigation riser, valve, solenoid and the rest of your system for leaks.
If you have a problem with your irrigation system, please check these things before you call:

Do you have more sprinklers turned on than your system can support?
Is there a kinked hose somewhere in the works?
Is there a dirty or plugged filter in the system?
Is a sprinkler head plugged?
Is your pump plugged?

If none of the above is a problem, call Customer Service at 509.586.9111. A member of our field crew will be assigned to stop by. When service is restarting for the year (April and May) the wait time for help can be considerable. We ask for your patience at this time of year and please be assured, we'll get there as soon as we can!
Watering & Lawn Care Tips
How much water does my lawn need?
Most lawns in the Kennewick Irrigation District grow within the first foot of soil, so it's important to keep that layer appropriately moist. KID recommends watering 3/8" every other day during the months of April, May, September and October, and 1/2" every other day during the months of June, July and August.
Are there ways to measure or monitor how long I should water?
Generally, bluegrass lawn should be watered to moisten the soil 6" to 8" down. Most other grasses should be watered to allow water to penetrate 8" to 12". As the goal is to water less often for no more than 30 minutes per session per zone, determine the length of your watering sessions by how deeply the water was absorbed using the 15 minute method.
First, run your sprinkler for 15 minutes. Then, after 18-24 hours, measure how deeply the water soaked in. Use a moisture probe, dig a small hole in the watered area, or push a shovel into the ground and use it as a veer to spread the soil apart enough to determine how deeply the water penetrated. If your soil is damp to a depth of 4" after 15 minutes of watering and you need to water to a depth of 8", you will need to water for 30 minutes each time you water.
Your grass can grow in overly wet soil, but over-watering isn't good for your lawn. When water is constantly available near the surface, plant roots remain short. That dramatically limits grass, plants and trees ability to withstand dry conditions. The Tri-Cities area is known to have long periods of dry weather and conditioning our green areas is beneficial. By using the every other day method listed above, you should have satisfactory results for your lawn and plantings. If you want to calculate more specifically for your watering needs, try one of the following methods on measuring irrigation delivery to your land:
You can also measure your sprinkler output using a tuna can.
A pie plate will work as well.
Set one or two tuna cans or pie plates under each zone of your sprinkler system.
Sprinkle until the depth of water in the can or pie plate reaches 1". Note how long this takes.
Don't sprinkle again until the top two or three inches of soil are dry to the touch.
Based on how long it took to collect 1" of water in your tuna can or pie plate, and how much time elapsed between dryness*, determine how long you will need to program your sprinklers for 3/8" and 1/2:" respectively and plan your watering schedule to those amounts of time for the appropriate months. *Extreme heat or dry conditions will vary your testing results.