Winterization & Maintenance
You may still see water in our canals after the official end date – this is normal and used for baseline testing. Baseline testing is a process that allows the opportunity to measure the amount of seepage from the canal. Canals may appear to be more full than usual due to the intentional backup of water in order to measure this loss.
Plan ahead for maintenance work!
Winterization Procedures
Homeowners can prevent the KID valve and riser in their yard from freezing. This keeps maintenance costs down, prevents a leaky or broken valve next spring and reduces outage time.
Complete the following steps to winterize your irrigation riser:
Verify that water delivery to your home has ended for the season. *Please do not blow out your sprinklers until the official shut off date. If you do, water will just flow back into your sprinklers which may cause your pipes to freeze and break.

Drain the KID riser and valve. This can be done by disconnecting hoses and/or the irrigation system from the KID riser, and opening the gate valve. If it is not possible to disconnect the irrigation system from the riser, you will need to open all sprinkler valves and let gravity empty the system. Drain times will vary, so please be patient and wait for the water to stop flowing out of the riser.

Once the water flow has stopped, winterize your irrigation system. Consult with a professional to determine the proper winterization procedure for your irrigation system.
Warning: Personal injury and/or property loss can and will occur if winterization is done improperly or incompletely.
Close the KID gate valve and leave it closed. 3-way valves need to be opened to the vent side (pictured below). If the irrigation system was disconnected from the riser, do not reconnect it until spring startup.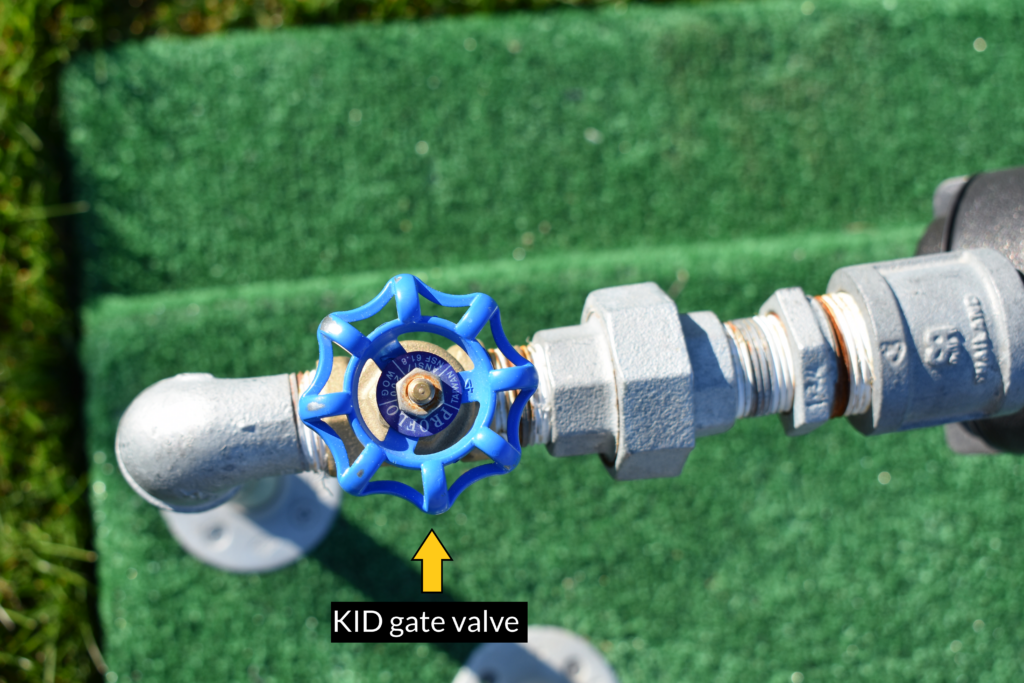 In the Spring
Before the water is turned on April 1st, make sure the gate valve on your irrigation riser is OFF. We suggest setting a reminder on your smart device or calendar to remind yourself when you should close the valve. This can help reduce floods or property damage if you aren't home when our system is turned on in the spring.
Once the water is turned on, check the irrigation riser, valve, solenoid and the rest of your system for leaks.
Troubleshooting
If you have a problem with your irrigation system, please check these things before you call:
Do you have more sprinklers turned on than your system can support?
Is there a kinked hose somewhere in the works?
Is there a dirty or plugged filter in the system?
Is a sprinkler head plugged?
Is your pump plugged?
If none of the above is a problem, call Customer Service at 509.586.9111. A member of our field crew will be assigned to stop by. When service is restarting for the year (April and May) the wait time for help can be considerable. We ask for your patience at this time of year and please be assured, we'll get there as soon as we can!